Video Prospecting: What Is It, Best Practices & Tools [2023]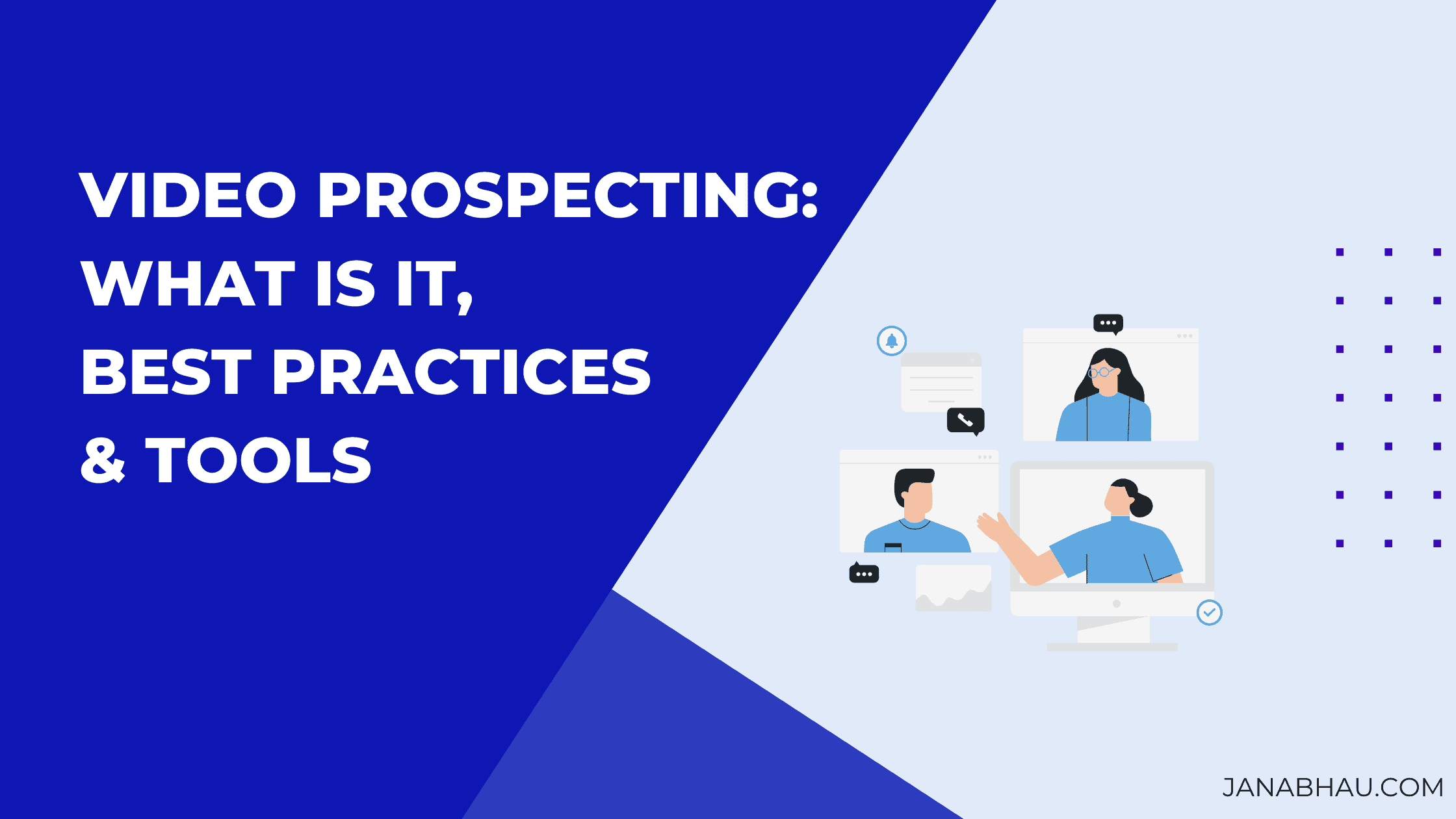 Are you a sales professional or entrepreneur looking to scale your outreach efforts with video prospecting?
If so, then you're at the right place. In this article, we'll look at the best practices to create compelling and effective videos so that you can get started quickly and easily.
I also provide a guide on the 6 best video prospecting tools that will enable you to revolutionize your interactions with prospects at scale.
Ready to dive in? Let's explore how you can transform your outreach efforts through video!
What is video prospecting?
Video prospecting is a form of sales outreach that uses videos to connect with prospects.
It allows you to bring your personality and conversational skills to a virtual interaction, resulting in a more engaging way of communication.
Why should you use it?
Unlike traditional text-based approaches, video prospecting enables companies to deliver their message with greater emotion, energy, and personality, significantly enhancing engagement with prospective customers.
According to SalesLoft, inserting videos in emails can have a massive impact on open and reply rates. After analyzing 4.5 million emails with prospecting videos, the company reported an average increase of 16% in open rate and 26% in reply rate.
Hubspot also ran an experiment a while ago and wrote that implementing a video prospecting strategy increased their number of sales opportunities by 4x!
Despite this compelling evidence, many businesses and sales teams still overlook this strategy and miss out on its benefits.
By embracing video prospecting and other new sales strategies for more personalization, companies can differentiate themselves from their competitors and appeal to customers in a more compelling and dynamic way.
When is the best time to use a prospecting video?
It is essential to start with a part of the sales cycle that feels like a natural fit for video prospecting and test, test, test to see what works.
Video is the perfect digital substitute for a face to face interaction and is most effective in these situations:
Sending cold outreach,
Reconnecting with a prospect,
Creating videos for your prospect to send to other stakeholders
Making fully personalized videos is the most effective way to connect with your prospect, but not every video needs to target only one person.
Sales reps can create a personalized video message at the account level, build a library of non-personalized video messages, highlight a piece of marketing content, or accompany the asset with a recorded screen share video. Test video at various points in your cadences to see where it works best.
How to record effective prospecting videos?
Following these video prospecting best practices can create a repeatable process to create compelling prospecting videos.
Step 1: Research & Tailored Pitch
Get to know your prospect and target audience by identifying their title, level in the organization, responsibilities, challenges, and pain points to tailor your pitch and show how your solution helps.
Step 2: Determine the Best Timing
Choose the best timing for your sales video by considering where it fits in your sales process and by sending it between the second and twentieth days of the cadence for higher reply rates.
Step 3: Craft Your Sales Video Script
Create a sales video script that includes an introduction, value proposition, purpose, call-to-action, and thank you message, and use a sales prospecting template or talking points as a starting point.
Step 4: Record Your Sales Video
Choose a quiet location with good lighting and minimal distractions, dress appropriately, smile, and follow your script to record a natural and conversational sales video, ideally between 30 seconds and 2 minutes.
Step 5: Choose an Attention-Grabbing Video Thumbnail
Choose an attention-grabbing thumbnail for your prospecting video, such as a whiteboard or chalkboard with the prospect's name, or an animated GIF.
Step 6: Include a Clear Call to Action
Include a clear call to action in your prospecting video that encourages your prospect to take the next step, such as scheduling a call or demo, and leaves a positive and lasting impression.
Step 7: Combine it with a Highly Effective Email
Send your sales video (embedded in the email body) out with a strong subject line and personalized body copy.
Note from Jan: Despite video being a highly effective outreach method, you will still need to combine it with other written channels to achieve the highest results. To maximize personalization and scale, I recently analyzed emerging AI Email Assistant tools that now save me hours of work per week.
What are the best video prospecting tools?
After analyzing the market for the best video prospecting tools, I found some established and new and exciting options.
To make it more comparable, I analyzed each product by its essential components: recording and editing features, distribution use cases, analytics, and integration capabilities.
Overview
Sendspark helps you stand out in the inbox with video emails for smarter outreach and clearer communication.
Key Features & Benefits
Recording
Chrome extension: Record videos quickly with your webcam.
AI video scripts: Use Artificial intelligence-generated scripts to create prospecting videos optimized for conversions
Custom intros: Personalize your videos by recording custom intros and stitching them with your existing content.
Video requests: Collaborate easily with colleagues and influencers by sending them video request links.
Collaboration Space: Personal & team library to organize videos by team or even by brand.
Distribution
Custom landing pages: Create a unique video experience with custom landing pages featuring your branding and messaging.
Thumbnail personalization: Engage your audience with personalized video content at Scale
Embed video in the email: Increase click rates by embedding videos directly in your emails.
Analytics and Integration
Advanced analytics and CRM Integrations to connect Salesforce, Hubspot, or Zoho
Pricing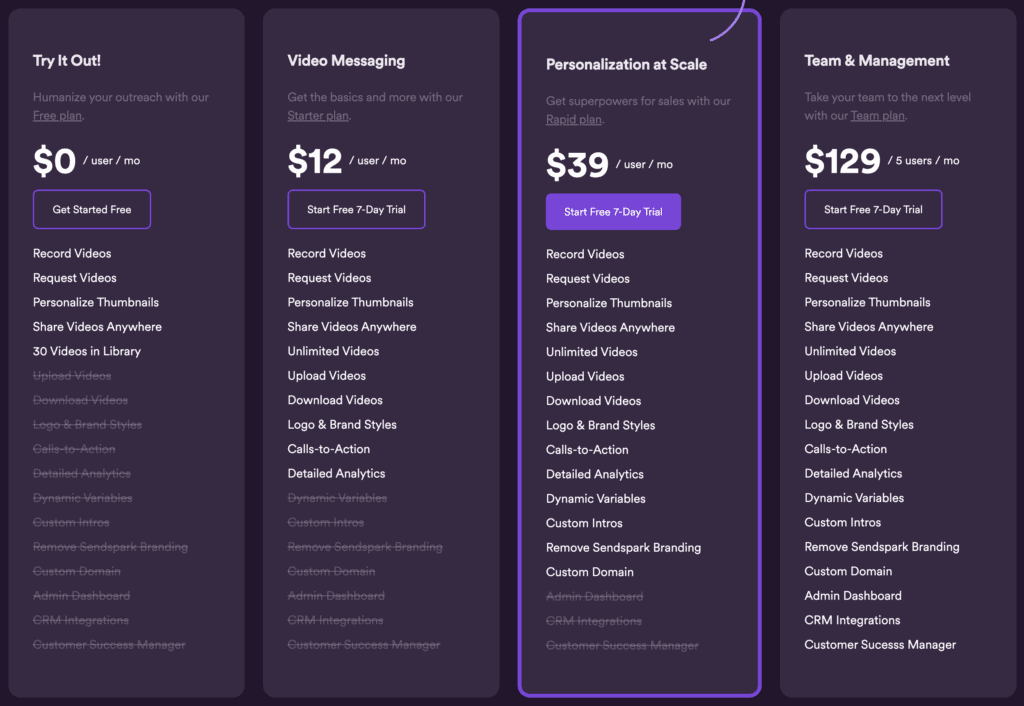 Free Trial: USD 0
Video Messaging: USD 12/user/mo
Personalization at Scale: USD 39/user/mo
Team & Management: USD 129/user/mo
My Take
Overall, the Sendspark is a great option for those looking to scale personalization efforts efficiently with a growing suite of AI features to help automate the process.
If you're looking to integrate the advantages of AI into your video prospecting strategy to bring it to the next level, Sendspark is definitely worth checking out.
Overview
BombBomb makes it easy to use simple videos to Build Relationships through email, text and social media.
Key Features & Benefits
Recording
Screen recorder and in-video Calls to Action: Engage your audience with interactive video content.
Animated preview and virtual backgrounds: Make your videos more visually appealing and professional.
Transcriptions and captions: Improve accessibility and comprehension.
Distribution
Encryption and password protection: Ensure the privacy and security of your videos.
Branded landing pages and email templates library: Create a consistent brand experience and improve conversion rates.
Scheduling and mass sending: Save time and streamline your video outreach efforts.
Analytics and Integrations
Advanced analytics and +50 Integrations with leading CRMs, Sales automation tools and more.
Extra
Customer Success Team and admin controls to cater to enterprise requirements
Email marketing platform: Enable mass sending and list segmentation
Pricing
Free Trial: USD 0
Essentials: USD 33/user/mo
Plus: USD 49/user/mo
Teams: USD 1914/team/mo
My Take
BombBomb offers a great set of features and differentiates itself with a larger support organization, and pricing plans that cover more advanced needs.
These benefits make it a solid choice for businesses of any size. If you value a great video prospecting product combined with top-notch service, give it a try.
Overview
Soapbox is a freemium Chrome extension from Wistia, designed to make video creation super simple
Key Features & Benefits
Recording
Chrome extension: Quick and easy video recording
Webcam recording: Screencasting: Showcase your product with split-screen video recordings.
Transitions, editing: Create professional-looking videos that engage and inform your audience.
Distribution
Video thumbnails: Grab viewers' attention and entice them to watch your videos.
Custom landing pages: Drive conversions with your own branding and Calls to Action
Export and download: Easily share and distribute your videos across multiple platforms.
Analytics and Integrations
Video Analytics, Alerts: Measure your success and stay informed.
Pricing 
Soapbox was acquired by they video platform, Wistia, and is now fully built into their platform. Thus, you'd need to subscribe to the Wistia platform to get access.
Plus Plan: starting at USD 19/user/mo
Pro: starting at USD 25/user/mo
Advanced: starting at USD 35/user/mo
My Take
Soapbox provides a straightforward experience with its simple Chrome interface. Essential features are included, making it a versatile tool for various use cases. The freemium model allows users to try out the product without any financial commitment.
If you're looking for an affordable video prospecting solution for your needs, give it a shot.
Overview
Enhance and streamline your one-on-one conversations with video funnels, AI-powered video chatbots, multimedia messaging, and video forms.
Key Features & Benefits
Recording
Video funnels with conditional logic: Simply pre-record a set of questions and the funnel leads to the next step based on their answers.
Distribution
Widget on your website: Personally show up in video for your web visitors and turn them into customers.
Embed it into your email: Display a preview of your video in the email
Analytics and Integrations
Drop-off analysis: Get a granular view of the performance of each step in your funnel.
CRM and calendar integrations: Track all your leads in one place and directly schedule meetings.
Pricing 
Start: USD 0
Grow: USD 24/user/mo
Brand: USD 40/user/mo
My Take
Videoask offers a unique and engaging approach to discovery with its interactive features. The novel approach sets it apart from other products on the market, providing users with a fresh perspective on information gathering.
If you're looking for an exciting way to explore and learn about prospects' needs, give it a try and see how it can enhance your experience.
Overview
Generate and share custom-made videos with ease throughout your sales process.
Key Features & Benefits
Recording
Chrome extension: Easily record high-quality videos right from your browser.
Distribution
Custom playlists: Organize and showcase multiple videos to keep your audience engaged and interested.
Custom landing page: Create a professional, branded page with clear calls to action.
Password protection: Keep your videos secure and accessible only to authorized viewers.
Analytics and Integrations
Advanced analytics and CRM Integrations: Connect with Salesforce, Hubspot, and other leading tools
Pricing
Free Trial: USD 0
Pro: USD 19/user/mo
Plus: USD 59/user/mo
Business: On request
My Take
Vidyard is an established tool that offers a simple yet effective solution for your needs. Its proven track record demonstrates its reliability and usefulness. If you're looking for a straightforward and dependable tool to get the job done, try it out!
Overview
Loom is one of the most known video recording tools and overs various use cases beyond sales.
Key Features & Benefits
Recording
Chrome extension: Easily record high-quality videos right from your browser.
Distribution
Customizable CTAs: Add CTA to videos to give users access to important links and resources.
Custom Branding: Add your logo and customize your video player's colors.
Password protection: Restrict access and add password protection.
Analytics and Integrations
Advanced analytics and CRM Integrations: Monitor engagement metrics and get alters when prospects interact with your content. Loom also offers a salesforce integration that is currently in beta.
Pricing
Starter: USD 0
Business: USD 12.5/user/mo
Enterprise: On request
My Take
In conclusion, Loom is an extremely popular video creation tool, given its simple and effective set of tools and the fact that it caters to a variety of use cases.
That being said, there is still room for improvement in a few areas, and I believe there are other more effective tools on the market when it comes to sales prospecting.
Overview
Tavus is an innovative video personalization platform that can take your recordings and instantly generate several AI-powered videos.
Key Features & Benefits
Recording
Text to video editor: Text editor that saves you time by turning text into video
Speech synthesis: Advanced Artificial intelligence audio engine that turns your text into speech that sounds just like you
Facial cloning: Leverage realistic-looking AI-created videos with best-in-class lip sync.
Distribution
Customizable landing pages: Showcase your brand and drive conversions with branded pages.
Integrations
CRM integrations: Streamline your workflow by integrating with popular platforms like Salesforce, HubSpot, or use Zapier.
Pricing
As of now, pricing is on request only. 
My Take
In conclusion, the product has some impressive AI capabilities and makes personalization at scale easy.
As of now, it is still a very new tool that will need to catch up on certain features other tools provide. However, due to its novel approach, this product is definitely worth trying out.
Conclusion
Video prospecting is an effective and powerful sales strategy that, when used correctly, can help close more deals and increase your overall revenue.
However, choosing the right video prospecting tool for your needs is essential to make the strategy scalable and reduce acquisition costs.
Luckily, there are plenty of great options with free trials, so you can try them out for yourself and see what works best for you and your team.